At CR's, we know that comfort – both in food and in service – is an essential part of any dining experience. When done the right way, there's a familiar bond that forms with the person cooking your food, bringing it to your table, and pouring your drinks – one that goes both ways. Knowing this, we'd like to introduce the following CR's Star so that when you walk through our doors, you'll be greeted by friendly and familiar faces.
Why? Because happy staff paired with delicious food leads to the dining experience that you deserve.
A Dozen Things to Know about Lisa Ryan – "Server Extraordinaire"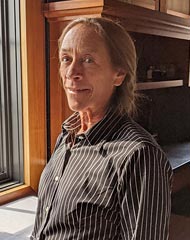 1) Where are you from?
I'm from South Hampton, NY. Graduate of West Hampton Beach High School. I met my husband-to-be, Parker, in West Hampton but when he went to NH, I went to school in NYC – Fashion Institute of Technology (FIT). I thought advertising was my calling but I was "lured" to join Parker in New England, Newburyport, MA to be exact and gravitated into the restaurant business, soon thereafter.
2) How long have you been at CR's?
Been here since March 2015, so just completed my seventh full year. I was working in Exeter at Pimento's when I heard a new restaurant was hiring and decided to check it out. Former Managers "Holly" and "Marshall" are to blame-lol!
3) What's the best part of working at CR's?
The food! I have always been proud of serving the food as CR's has always had talented, creative chefs who put a lot of emphasis on the presentation and portions. Also proud of the fact that we always try to do things right, make special occasions even more special, do a great job with the holidays, and prioritize Steps of Service. I think there are very few restaurants in the seacoast area that rival CR's.
4) What has been your favorite dish to serve while working at CR's?
Without a doubt, the first scallop dish from Chef Tom Begani! It had house-made, fresh gnocchi with a parmesan cream sauce that guests just loved! The scallop dishes that have followed it through the years have been good, but I still have guests who long for Chef Tom's original recipe.
5) What makes you happy?
My kids! Even though they are older, out of the house, and for the most part on their own, I still enjoy time with them. My daughter Brooke lives in Key West where she works in the fashion business as a buyer and my son Chris lives in the greater Boston area where he works in the entertainment/ hospitality field. The other thing that makes me happy – being outdoors and watching the wide variety of beautiful birds that live in and near the waterways along the Seacoast.
6) Where's the one place you would still like to visit in your lifetime?
Without question, Italy! Would love to experience the food, the wine, the culture, the scenery, just everything! I watch the Stanley Tucci show and wish I was him-lol! I may go before this year is out.
7) What one word best describes you as a person?
Workaholic! And if I could add a second word, "Professional" Workaholic! I like to work, I like to interact with people, like to make them happy, and like to represent my restaurant well! That being said, in the rare instance when I am not working I could be called a "read-acholic." I love to read and as I said previously, watching birds!
8) Favorite type of music?
#1 fan of Elton John! Been listening to his music since high school. I think my first record album (alright you need to be over 50 to know what a "record album" is – lol!) was Elton's first album. I also like James Taylor, John Mayer – smooth and soft rock, with meaningful lyrics.
9) What's your hidden talent?
I'm a pretty good crossword puzzler! Love doing the Sunday puzzle in the NY Times. And you'll likely find a "started" puzzle laying around, if you ever came to my house.
10) If you weren't a professional server, what you would be?
I'd probably be in the advertising world. I really liked it when I was in college and I am ONE person who when watching TV, "likes" watching the commercials! I analyze them all the time with friends and family.
11) Go back in time 50 years or jump ahead into the future 50 years – what would be your preference?
Well, I'm not sure I would want to go back in time and live through the teenage years again. And if I went back in time, I know I wouldn't have married the man I did marry – yikes! However, I'm afraid of the future, given how wacky and unpredictable the world is today! You know, I think I would just say I'm "ok" being where I am, having lots of life's experiences and good memories – on the other side of the mountain, as they say!
12) What would you tell someone who has never been to CR's The Restaurant?
It's the B-E-S-T restaurant you will go to on the Seacoast, maybe in New Hampshire? The food, service, atmosphere, management team, and bar have no rivals! The customer experience will make them want to come back time and time again!
Adam Maloney, Bartender and Hospitality Professional
1) Where are you from?
Born in Massachusetts and lived there until I was eight years old. Grew up, including going to High School, in Salem, NH. Eventually moved to Manchester, NH area.
2) How long have you been at CR's?
I've been here since May 2018. Prior, I had worked in a couple of different restaurants in the Manchester/Bedford area – Mint and Murphy's Tavern and Banquet Center.
3) What's the best part of working at CR's?
The professional environment. Management has high expectations of their employees but also delivers by creating an awesome restaurant experience for their guests. They hire good people, spend time and money training us, and they provide all the tools we need to succeed. This in turn leads to very good pay, i.e., higher tips and an overall rewarding work experience. Best place I've worked in my career!
4) What's your favorite drink to make at the bar at CR's?
I like to make a good Old Fashion! And we have a special recipe here that guests love, so I make them a lot. I also like to make an Espresso Martini – and would put mine up against anyone's – lol!
5) What makes you happy?
I really enjoy getting the chance to do my hobbies. Painting, surfing, music, and going to sporting events are things that put a smile on my face. And, before I forget – spending time with my daughter, although as she enters her teenage years she wants to spend more time with her friends.
6) Where's the one place you would still like to visit in your lifetime?
I would like to see more of Europe – been there once but wasn't able to stay long enough. I like "old countries" and to see up close how the other half lives! Africa would be another place I would like to visit someday.
7) What one word best describes you as a person?
Honest! I pride myself in telling the truth and being honest with my feelings. I admit, it sometimes gets me in trouble – telling people what they don't want to hear but in the long run, they know there's no "BS" with me.
8) Favorite musical group?
In the early years I really liked Def Leppard. Then I stared to really like the band Weezer. Their first two albums were great! Can I admit, I liked Michael Jackson at one point, too – lol?
9) What's your hidden talent?
I think people would be surprised to know (and I don't mean to brag!) I'm a pretty good painter and I don't mean painting walls or bedrooms – lol. I know Chuck the Owner of CR's wouldn't be surprised because I painted him a watercolor of one of his favorite baseball players growing up off of a baseball card and he really liked it! My other "talent" is playing the drums.
10) If you weren't a bartender, you would have been…?
Doing something in the arts. Maybe be a filmmaker or in a band, maybe even an art teacher. I took a course in art about 12 years ago and have to admit, I have been hooked ever since!
11) Go back in time 50 years or jump ahead into the future 50 years – what would be your preference?
I would rather go back 50 years. And I would do things that I regret not doing today, like investing in Google! Or being smarter from what l learned the hard way over the last 20 years.
12) What would you tell someone who has never been to CR's The Restaurant?
I would say you gotta' go! I would tell them how awesome the atmosphere is – for both special occasions and casual. I would tell them that the food and drink is the "best around" – and that they will be very impressed with their dining experience.
Jose Solis, Sous Chef
Been with us September 2018. First year as a line cook, the last two as Sous Chef
1) Where are you from?
Born in Lawrence, Mass but at six months old, moved to Arroyo, Puerto Rico with my parents. Stayed there through high school. Then moved back to Massachusetts to play soccer for Northeastern University.
2) Where did you learn your trade?
From the school of "hard knocks" – lol! An "old school" Chef like Mark Smith (Lobster Tank in North Andover, MA) taught me how to cook and I learned a lot of other skills like plating and timing, line cook mentality as well as sanitation from the Dumont Family Chefs Dan and Mary. Also, learned a lot from a couple of former Owner/Bosses Jake and Maura, formerly from the Purple Urchin. It's there where I learned a lot about managing and being a Chef.
3) What's the best part of working at CR's?
The best part of working at CR's is the people! From the Owner to the GM, our current Chef, and the entire staff – everyone has been quick to teach me or to support me or to just make the "job" more enjoyable. We have a great crew, although I have to admit it wasn't always that way. Since we came back from Covid, after being closed for 13 weeks, everyone has made an extra effort to get along and work together. It's now "fun" to come to work!
4) What's your favorite dish to make at CR's?
My favorite dish to make at CR's is the Crispy Salmon. First off, it's a great piece of fish and the Chef's preparation to give it the crispy skin is really amazing. While I follow the recipe "wink, wink, nod, nod," I also add a few extra spices to the dish when I am at the Sauté Position and can't believe I am admitting this – a little butter! It gives it a nice shine and the butter helps the spices melt into the fish.
5) If you had to make a dinner for the President of the United States, for Heads of State from around the world, what would you cook?
Because of my heritage and because I KNOW it would have to be "perfect," I would do a roasted pork dish, with chick pea rice and grape leaves, plantain chips and my Grandma's favorite – coconut rice pudding!
6) What makes you happy?
Spending time with my kids and now grandkids! They grow so fast and really amaze me how smart they are. I also like "talking" about cooking, about sports, and about a lot of things! Good communication leads to good relations, I believe. And I work to be happy at life.
7) What's the one place you still hope to visit?
That's easy – Venezuela! From what I hear, everything is beautiful there – the countryside, the women (lol!), the natural ingredients for food, etc. It's really on my bucket list!
8) What one word best describes you as a person?
Honest! Or maybe it's candor, which admittedly sometimes gets me in trouble. I say things the way I think you should say them and try not to "candy coat" my feelings. Like I said, it sometimes gets me in trouble but usually people appreciate it. If I can mention a second word, it would be Loyalty. I am a very "loyal" person to my employer, my friends even businesses I do business with. If I know you have my back, I will definitely have yours!
9) Favorite Musical Group?
Actually, I love 80s rock and have too many "faves" to name just one! They include Duran Duran, Poison, Whitesnake, Boy George, Journey – like I said, 80s Rock – just rocks! But, I also like Michael Jackson too – smile.
10) Hidden Talent?
Good tennis player and an even better soccer player. Love those sports!
11) If you weren't a Sous Chef, you would have tried to play professional baseball?!
My country has produced a lot of great baseball players over the years and when I was a kid, I wanted to be one of them but it's "berry, berry" competitive in Puerto Rico and I eventually realized I just wasn't talented enough.
12) What's the one thing we don't know about Jose Solis?
Hmmm, guess I'd have to say – I'm a helluva dancer – lol!
Q & A with Lunch Chef, Gary Kuchar
1) Where are you from?
Haverhill, Mass
2) How long have you been at CR's?
Since day 1! Hired in September 2014. I've seen the good, the bad and the ugly—smile!
3) What's the best part of working at CR's?
The people! We have a very polished and professional staff. Everybody wants to do right! And that makes my job a lot easier!
4) What is your favorite dish on the Lunch menu at CR's?
The salmon dish with the Japanese eggplant and zucchini noodles is my "proudest" dish! However, I personally like the beer battered fish & chips…a Kuchar family favorite!
5) What makes you happy?
Having a very busy, smooth, "uneventful" lunch or brunch shift AND…playing golf naked in the rain!!! In that order—smile!
6) Where would be the one place you would still like to visit in your lifetime?
Italy…or even France! Both those countries place a high emphasis on food and cooking and I would love to see the authenticity of their dishes and their techniques in the kitchen.
7) What one word best describes you as a person?
Passionate!
8) Favorite Musical Group?
The Boss – Bruce Springsteen
9) Hidden Talent?
That's a tough one. When I was young I would love to paint and draw. Now as an adult…I can tell you I am really good at puzzles! Love the 1,000 piece ones!
10) If you weren't a Chef, you would have been a…?
Veterinarian! All due to my love for animals!! But, as you can see I had another calling…No regrets!
11) If you could go back in time 50 years or jump ahead into the future 50 years, what would you do?
Jump ahead!! I already know what has happened in the past 50! More interested in where this world will be in 50!!
Anne Loeffler, Bartender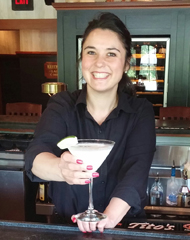 Where are you from originally?
I was born in Paris, France; grew up in Chicago (coincidentally close to Sous Chef Tom Begani and Owner Chuck Rolecek); moved to NH when I was 13 and have lived here ever since.
How long have you been a part of the CR's team?
I have been a part of the CR's team since Day 1 / the opening on October 15. I was actually a Bartender at Bonta for the last 2 years, and couldn't have been more thrilled when I was asked to stay and join Chuck's team.
What's your favorite part about working at CR's?
The menu, staff (fellow employees), guests, management, the organization as a whole; I helped design the bar, so I like that, too!
Name your favorite dish at CR's:
Bacon Wrapped Statler Chicken because it's sophisticated, rich and tastes delicious. It is one of CR's signature dishes.
When are you happiest?
"When I am being fanned by a young body builder and nibbling on grapes with a glass of Sauvignon Blanc at a Hawaiian Resort" 2nd Happiest – "When I see customers happy after dining at CR's."
If you could travel to one place, where would that be?
Ireland!
In one word, what characteristic defines you most as a person?
Effervescent – I think of myself as the people version of a Moet Chandon Champagne!
What is one hidden talent that you have?
Fantastic singer… in the shower! – "Another Manic Monday!"
Would you rather visit 100 years in the past or 100 years in the future? And why?
100 years in the future – I like to think in terms of moving forward as opposed to holding on to the past!
Previous Stars »

Charles "Chuckles" Cummings III
Culinarian Extraordinaire