At CR's, we know that comfort – both in food and in service – is an essential part of any dining experience. When done the right way, there's a familiar bond that forms with the person cooking your food, bringing it to your table, and pouring your drinks – one that goes both ways. Knowing this, we'd like to introduce the following CR's Star so that when you walk through our doors, you'll be greeted by friendly and familiar faces.
Why? Because happy staff paired with delicious food leads to the dining experience that you deserve.
Patrick Hussey, Bartender and Hospitality Professional
1) Where are you from?
Born and raised in Quincy Mass, moved to Boston as young adult. Stayed in Boston until 2001, then I went to work in Scottsdale, Arizona for the Marriott Company. Eventually moved to Las Vegas, continued working in the hospitality industry at the MGM Resort and Casino. Eight years later, left the desert for the shores of Amsterdam, Netherlands! In 2013, "we" (wife and 2 children) moved back to the seacoast of New Hampshire. Happy to be back in New England…except for the really, really cold days-lol!
2) How long have you been at CR's?
I've had two terms of duty! First one, started in August of 2015, and lasted though December 2015. Left to start my own pizza business. Then, when I realized I would rather work at CR's than be an independent business person, I came back and said 'I'm yours forever, if you'll take me back!" They gladly obliged and I am happy how everything worked out—It's good to be back!
3) What's the best part of working at CR's?
The camaraderie – it's really like a family here! That doesn't mean it's always perfect or that there aren't disagreements from time to time. However, from top to bottom, owner, to the managers and chefs, to the bartenders, servers, support staff and kitchen crew, there is a genuine respect for one another no matter what job you are in and we all try to help one another. The mantra is that we put all our effort toward the guests and everything seems to work out! Now always fun coming to work, but almost always fun being at work!
4) What is your favorite drink to make at the bar at CR's?
I like to make the drinks that are flavor infused. The Old Fashion with the special bitters, or the Mojito's that have fresh herbs and freshly squeezed juices in them. They take a little time but the customers seem to appreciate them and we have a selection of handcrafted cocktails that has no rival on the Seacoast, as far as I am concerned.
5) What makes you happy?
Seeing my children discover things for the first time! Those famous ah-ha moments that most parents never forget. And with a six and a nine year old, there are still quite a few of those moments!
6) Where would be the one place you would still like to visit in your lifetime?
I would really like to visit Bali, Indonesia! There is just something about the culture, the people, the landmarks, which I have read about or heard about that makes me want to go there. I picture it being very tropical and spiritual too. I know it's 6,000 miles away, but I still think I'm gonna' get there… someday!
7) What one word best describes you as a person?
If I can only use one word, then it has to be FRIENDLY! I think it's a good trait to have being in the hospitality business, don't you agree?
(If I can use more than ONE, well then, I think of myself as optimistic, upbeat, and engaging also!)
8) Favorite Musical Group?
Think it has to be The Beatles! I grew up in the 70's and they were still pretty popular then, even if they weren't performing as a group at that time. They just influenced so many aspects of popular music, even now 40-50 years later!
9) Hidden Talent?
I'm a pretty good plumber! Seem to have a knack for fixing plumbing problems/issues in and around the house. Not bad at painting either—not painting pictures but more like bedrooms and kitchens. I really enjoy doing these things around the house…but only when I'm not serving hand-crafted cocktails or pouring wines from our 25 Wines By the Glass Wine List! (Shameless plug for CR's!)
Q & A with Lunch Chef, Gary Kuchar
1) Where are you from?
Haverhill, Mass
2) How long have you been at CR's?
Since day 1! Hired in September 2014. I've seen the good, the bad and the ugly—smile!
3) What's the best part of working at CR's?
The people! We have a very polished and professional staff. Everybody wants to do right! And that makes my job a lot easier!
4) What is your favorite dish on the Lunch menu at CR's?
The salmon dish with the Japanese eggplant and zucchini noodles is my "proudest" dish! However, I personally like the beer battered fish & chips…a Kuchar family favorite!
5) What makes you happy?
Having a very busy, smooth, "uneventful" lunch or brunch shift AND…playing golf naked in the rain!!! In that order—smile!
6) Where would be the one place you would still like to visit in your lifetime?
Italy…or even France! Both those countries place a high emphasis on food and cooking and I would love to see the authenticity of their dishes and their techniques in the kitchen.
7) What one word best describes you as a person?
Passionate!
8) Favorite Musical Group?
The Boss – Bruce Springsteen
9) Hidden Talent?
That's a tough one. When I was young I would love to paint and draw. Now as an adult…I can tell you I am really good at puzzles! Love the 1,000 piece ones!
10) If you weren't a Chef, you would have been a…?
Veterinarian! All due to my love for animals!! But, as you can see I had another calling…No regrets!
11) If you could go back in time 50 years or jump ahead into the future 50 years, what would you do?
Jump ahead!! I already know what has happened in the past 50! More interested in where this world will be in 50!!
Anne Loeffler, Bartender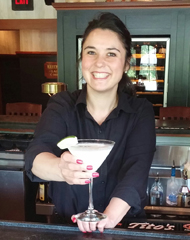 Where are you from originally?
I was born in Paris, France; grew up in Chicago (coincidentally close to Sous Chef Tom Begani and Owner Chuck Rolecek); moved to NH when I was 13 and have lived here ever since.
How long have you been a part of the CR's team?
I have been a part of the CR's team since Day 1 / the opening on October 15. I was actually a Bartender at Bonta for the last 2 years, and couldn't have been more thrilled when I was asked to stay and join Chuck's team.
What's your favorite part about working at CR's?
The menu, staff (fellow employees), guests, management, the organization as a whole; I helped design the bar, so I like that, too!
Name your favorite dish at CR's:
Bacon Wrapped Statler Chicken because it's sophisticated, rich and tastes delicious. It is one of CR's signature dishes.
When are you happiest?
"When I am being fanned by a young body builder and nibbling on grapes with a glass of Sauvignon Blanc at a Hawaiian Resort" 2nd Happiest – "When I see customers happy after dining at CR's."
If you could travel to one place, where would that be?
Ireland!
In one word, what characteristic defines you most as a person?
Effervescent – I think of myself as the people version of a Moet Chandon Champagne!
What is one hidden talent that you have?
Fantastic singer… in the shower! – "Another Manic Monday!"
Would you rather visit 100 years in the past or 100 years in the future? And why?
100 years in the future – I like to think in terms of moving forward as opposed to holding on to the past!
Previous Stars »

Charles "Chuckles" Cummings III
Culinarian Extraordinaire