At CR's, we know that comfort – both in food and in service – is an essential part of any dining experience. When done the right way, there's a familiar bond that forms with the person cooking your food, bringing it to your table, and pouring your drinks – one that goes both ways. Knowing this, we'd like to introduce the following CR's Star so that when you walk through our doors, you'll be greeted by friendly and familiar faces.
Why? Because happy staff paired with delicious food leads to the dining experience that you deserve.
Q & A with Lunch Chef, Gary Kuchar
1) Where are you from?
Haverhill, Mass
2) How long have you been at CR's?
Since day 1! Hired in September 2014. I've seen the good, the bad and the ugly—smile!
3) What's the best part of working at CR's?
The people! We have a very polished and professional staff. Everybody wants to do right! And that makes my job a lot easier!
4) What is your favorite dish on the Lunch menu at CR's?
The salmon dish with the Japanese eggplant and zucchini noodles is my "proudest" dish! However, I personally like the beer battered fish & chips…a Kuchar family favorite!
5) What makes you happy?
Having a very busy, smooth, "uneventful" lunch or brunch shift AND…playing golf naked in the rain!!! In that order—smile!
6) Where would be the one place you would still like to visit in your lifetime?
Italy…or even France! Both those countries place a high emphasis on food and cooking and I would love to see the authenticity of their dishes and their techniques in the kitchen.
7) What one word best describes you as a person?
Passionate!
8) Favorite Musical Group?
The Boss – Bruce Springsteen
9) Hidden Talent?
That's a tough one. When I was young I would love to paint and draw. Now as an adult…I can tell you I am really good at puzzles! Love the 1,000 piece ones!
10) If you weren't a Chef, you would have been a…?
Veterinarian! All due to my love for animals!! But, as you can see I had another calling…No regrets!
11) If you could go back in time 50 years or jump ahead into the future 50 years, what would you do?
Jump ahead!! I already know what has happened in the past 50! More interested in where this world will be in 50!!
Anne Loeffler, Bartender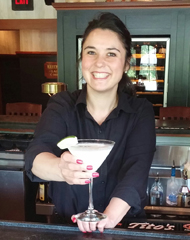 Where are you from originally?
I was born in Paris, France; grew up in Chicago (coincidentally close to Sous Chef Tom Begani and Owner Chuck Rolecek); moved to NH when I was 13 and have lived here ever since.
How long have you been a part of the CR's team?
I have been a part of the CR's team since Day 1 / the opening on October 15. I was actually a Bartender at Bonta for the last 2 years, and couldn't have been more thrilled when I was asked to stay and join Chuck's team.
What's your favorite part about working at CR's?
The menu, staff (fellow employees), guests, management, the organization as a whole; I helped design the bar, so I like that, too!
Name your favorite dish at CR's:
Bacon Wrapped Statler Chicken because it's sophisticated, rich and tastes delicious. It is one of CR's signature dishes.
When are you happiest?
"When I am being fanned by a young body builder and nibbling on grapes with a glass of Sauvignon Blanc at a Hawaiian Resort" 2nd Happiest – "When I see customers happy after dining at CR's."
If you could travel to one place, where would that be?
Ireland!
In one word, what characteristic defines you most as a person?
Effervescent – I think of myself as the people version of a Moet Chandon Champagne!
What is one hidden talent that you have?
Fantastic singer… in the shower! – "Another Manic Monday!"
Would you rather visit 100 years in the past or 100 years in the future? And why?
100 years in the future – I like to think in terms of moving forward as opposed to holding on to the past!
Previous Stars »

Charles "Chuckles" Cummings III
Culinarian Extraordinaire