We are humbled and honored by this pair of recent awards! See what they're all about.
The New Hampshire Magazine Best of 2015, Editor's Pick: "New Old Favorite"
We're delighted and honored to receive The New Hampshire Magazine editor's pick of 2015 for "New Old Favorite". The accolade is given to the Granite State restaurant that has made the biggest comeback splash in 2015. Closing CR Sparks was one of the hardest decisions of our owner Chuck Rolecek's career, but this is just one more example that everything truly does happen for a reason! And a big thank you to the editor's at NH Magazine for the humbling recognition.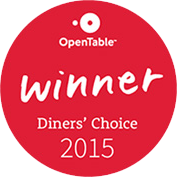 OpenTable Diners' Choice Award
What an honor! The OpenTable's Diners' Choice list celebrates the best local restaurants based only on customer feedback. OpenTable is both an online reservation system for restaurants and an online review service, which is where information for the Diners' Choice Award comes from. Lists are refreshed once a month, and after a busy spring season, it is gratifying to be recognized by all the amazing customers that we've had the pleasure of serving. Want to see what people have been saying about CR's? With over 140 reviews, don't take our word for it; take your fellow patrons'! We can't say thank you enough to all of you for taking the time to provide the feedback that resulted in this humbling recognition.